-37%
Samsung 637L Family Hub™ French Door Refrigerator
Features of the Samsung 637L Family Hub™ French Door Smart Refrigerator
Family Hub™ Smart Fridge

Beverage Centre™

Autofill Infuser Jug

Auto Dual Ice Maker

Internal Beverage Centre with Dispenser

Flexible Storage
Enquire Now
Description
Samsung 637L Family Hub™ French Door Smart Refrigerator
Features at a Glance
Family Hub™ Smart Fridge

Beverage Centre™

Autofill Infuser Jug

Auto Dual Ice Maker

Internal Beverage Centre with Dispenser

Flexible Storage
Rethink the refrigerator
Family Hub™
Make the Family Hub™ the heart of your home. It's a fun way to share messages, photos or videos, sync calendars and much more. From personalised recipe ideas or meal plans to ordering groceries delivered to your door, it's like your personal food concierge. You can also watch TV¹ on the home screen, access apps on your smartphone or listen to music while spending time in the kitchen. And all this is just the start!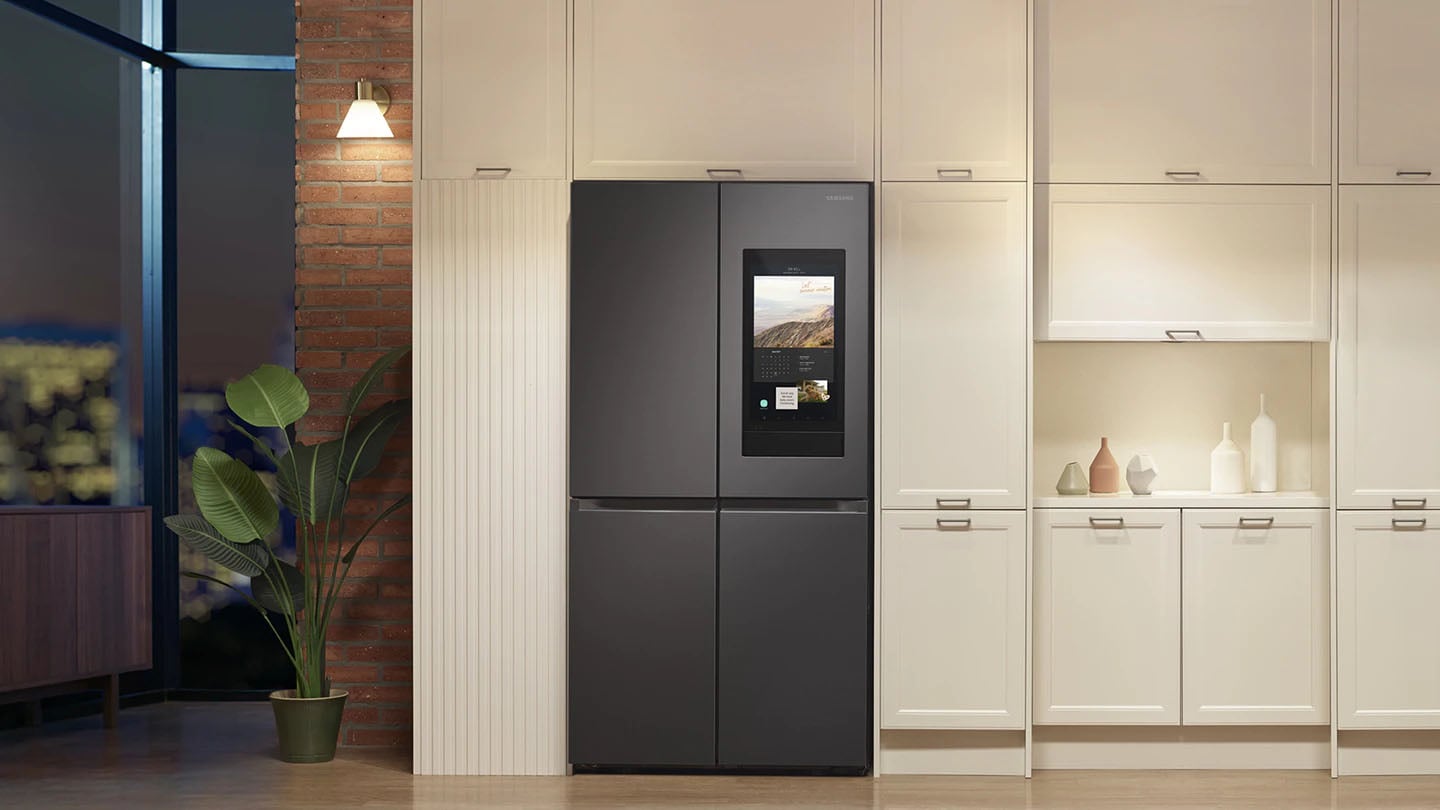 Food AI
Manage and prepare food more effectively.
Family
Take care of family members and bond more closely.
Entertainment
Enjoy seamless entertainment in the kitchen.
Manage food easily, saving time & money
See what's inside your fridge anywhere
View Inside
Running low on milk? See what's inside your fridge anytime, anywhere on your compatible smartphone or using the home screen.
*Screen images simulated. Actual UI may vary by country.
Tap or swipe down to view
Tap View & QuickView
Know what's exactly in your fridge. With Tap View, simply tap twice on the home screen when it's off to show what's on the shelves. And when the screen is on, QuickView lets you see inside with a simple 2-finger swipe down.
Mealtimes made easy
Recipe Planner
Enjoy the convenience of Food AI to make mealtimes quick and easy. Simply set your food preferences, dietary needs and favourite cuisines to get personalised meal plans from the Meal Planner app² delivered weekly based on your nominated preferences or ingredients.
Grocery shopping made easy
Woolworths Online
From meal planning to taking stock of what you already have, grocery shopping is now easy with the Shopping List App. Just add items to your list with a touch or voice command. You can even access it on your compatible smartphone and check it while on a grocery run.
Never a boring meal again
Smart Recipes
Cook food that the family loves. The Smart Recipes app gives you access to delicious recipes with simple instructions. Find new recipes easily and simply ask Bixby to save your favourites.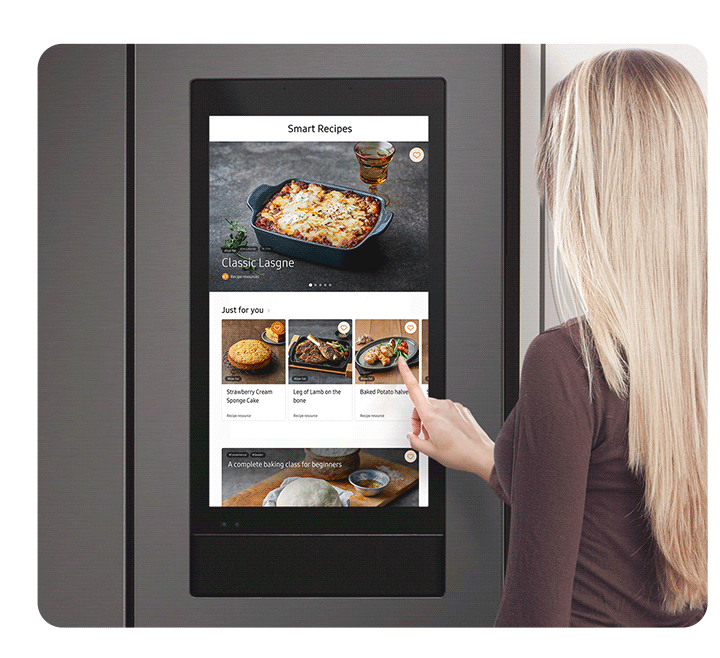 Get closer to members of your family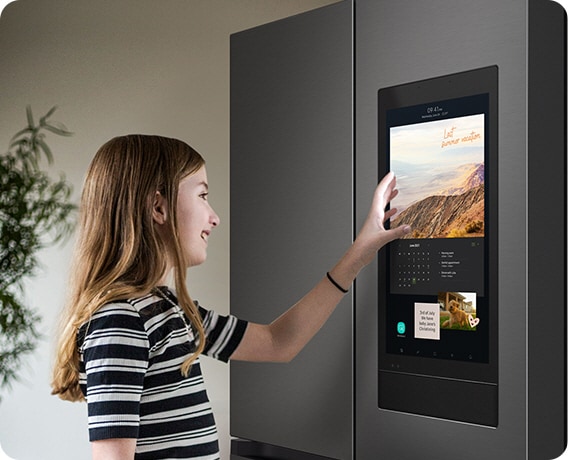 Stay Connected
Family Board
Have fun communicating with your family using the Memo, To-do and Gallery Apps. You can use the home screen to share photos or video clips, post stickers, leave notes or draw pictures, share schedules or website links.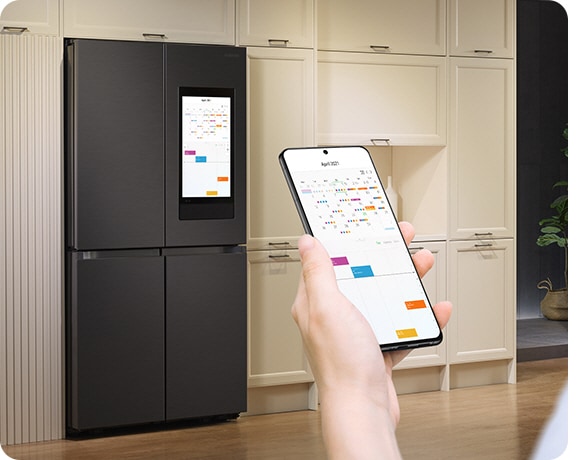 Never forget important family events
Calendar
With the Calendar app, you can share and check the schedules of family members at a glance, update entries on the fridge or from a compatible smartphone and synchronise schedules with Google and Microsoft 365 calendars. No excuses now for missing family events!
*Screen images simulated. Actual UI may vary by country.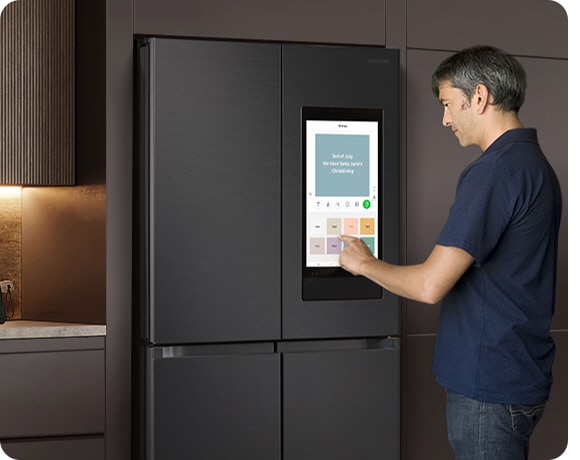 Memo
Using the Memo, To-do and Gallery apps you can quickly share memos, task lists, instructions, activity schedules and photos. It turns on when someone steps close the fridge for display.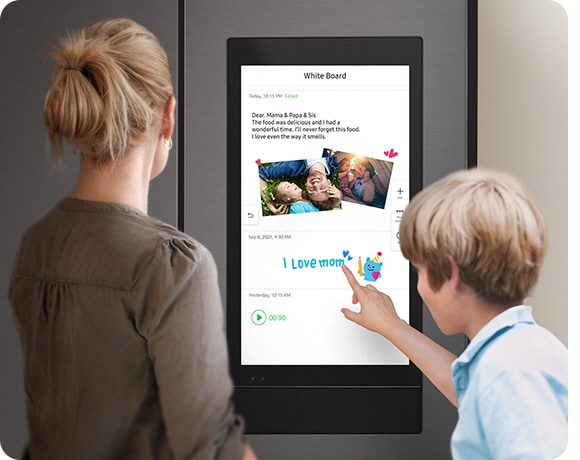 Whiteboard
With the White Board application, you can draw messages or pictures and add emoticons to make it fun. It's also easy to add replies to messages.
*Screen images simulated. Actual UI may vary by country.
Morning Brief
Stay up-to-date on the important stuff. The Morning Brief displays the weather forecast, your calendar events⁶ and even your food reminders on the home screen or when you open the fridge door. You can also activate it using Bixby voice recognition to get the latest news.
Feed your mind
Trivia
No pens, no paper, just plain fun! Enjoy daily doses of trivia to keep the family entertained and informed. From learning about new or unusual words to fascinating fun facts, it's a real blast!
Non-stop music, radio & TV entertainment
Phone and TV mirroring
SmartView
Cooking up a storm? Keep yourself entertained by mirroring what's on your smartphone or TV to the Family Hub™ screen. Simply open the App, choose a compatible smartphone or TV and both screens will instantly show the same content – no additional hardware or software required.
*Screen images simulated. Actual UI may vary by country.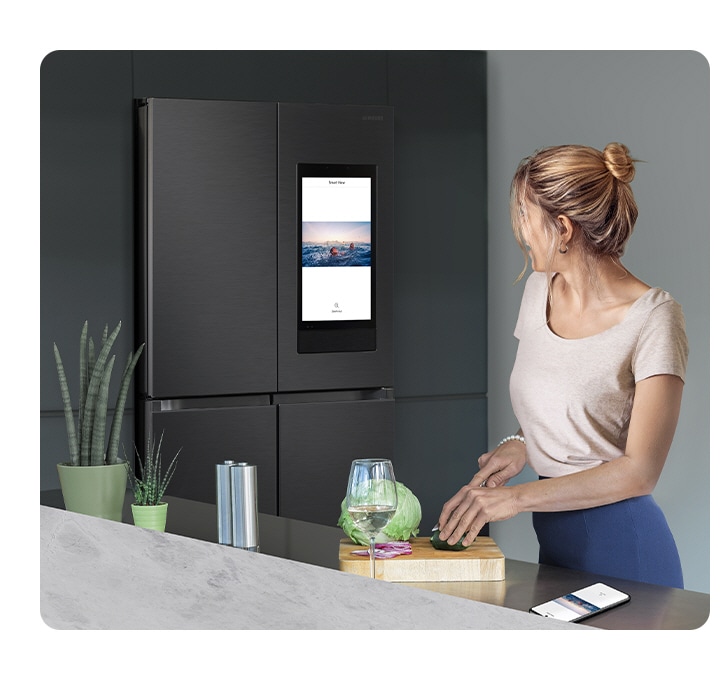 Non-stop entertainment
TuneIn / Spotify
Kitchen a mess? No worries. Just play your favourite music from Tune-in radio or Spotify apps on the Family Hub™ fridge for an entertaining clean up.
The world at your fingertips
Internet
Embrace the power of the internet on this Family Hub™ fridge. Use the home screen to browse content online such as your favourite websites, social media accounts and much more. You can also create shortcuts or save links to popular websites for easy access.
Enjoy a smarter way to control your home
Smart Home Control
SmartThings
Turn your home into a smart home with SmartThings. Using your voice or a touch on the fridge home screen, you can control compatible smart appliances and iOT devices. They can be turned on/off, adjust settings, coordinate activities and limit power usage, all from your Family Hub™ home screen.
*Screen images simulated. Actual UI may vary by country.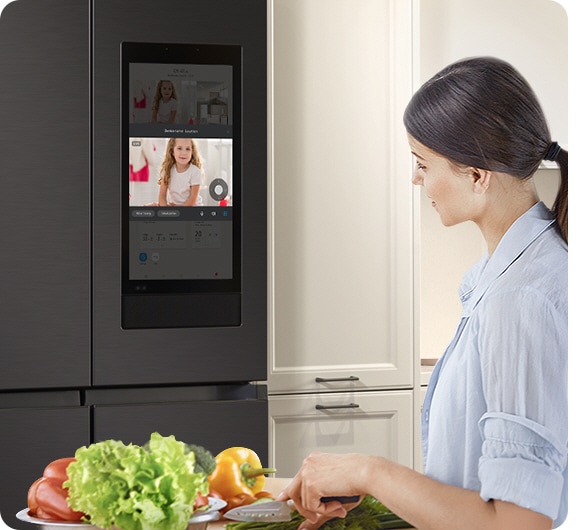 SmartThings Video
The SmartThings Video app links to any compatible Wi-Fi enabled video cameras in your home so you can monitor different areas on the Home Screen. And if you have a 360-degree camera installed, you can also adjust the camera angle and view all around a room.
Voice Control
Bixby
Unlock the potential of voice control with Bixby. You can simply tell the fridge what to do and it does it. From setting alarms to suggesting or reading out recipe instructions, it makes time spent in the kitchen efficient and easy.
Make & receive phone calls hands-free
Bluetooth Call
Avoid smudge marks on the home screen and make or receive calls while cooking without holding a phone by using Bluetooth connectivity. The fridge can seamlessly connect to a compatible smartphone to make or receive calls. It can also make calls using just your voice.
*Screen images simulated. Actual UI may vary by country.
Fridge > Table >> Fast
Autofill Infuser Water Jug
Never worry about empty water jugs again! Serve cold water instantly from fridge to table with the convenient BPA free autofill water jug. The jug automatically refills each time it's placed back inside the fridge. Feeling fancy? Add some flavours to the infuser for a refreshing twist.
Ice Cubed Baby
Dual Auto Ice Maker
Make sure you're prepared for any occasion with two different types of ice. The Dual Auto Ice Maker makes both Cubed Ice and Ice Bites™, which chill drinks fast. It can make up to 2.7kg of ice a day and store up to 3.1kg. As it's in the freezer it frees up space in the fridge.
Flat Door Outside Water Dispenser Inside
Beverage Center™
We've moved the water dispenser inside for a seamless, flat door design. Located inside the door is the new Beverage Centre™ which is where you can find the autofill water jug, water dispenser and all the drinks storage a family could possibly need.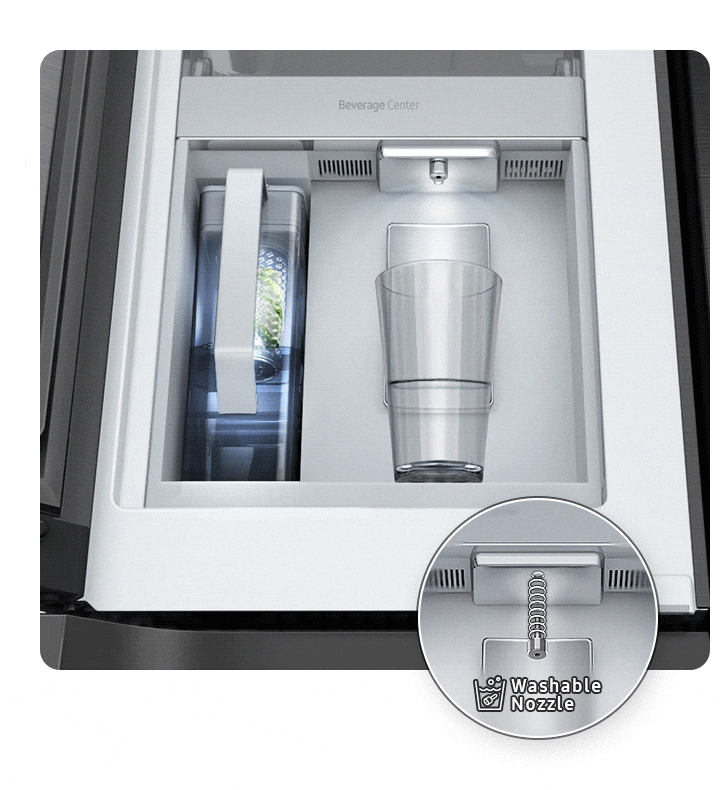 Flexible Storage
Flex Zone & Flex Crisper
Keep different foods fresh and tasty in optimal conditions. Cool Select+ is an independently controlled compartment with five pre-set modes: Freeze, Soft Soft Freeze, Meat/Fish, Fruit/Veggies and Beverage. There's also a Flex Crisper for meat or fish and a Crisper+ for fruit and vegetables.
Designed to impress
Premium Flat Door Design
Elegant 'built-in' look thanks to the flat door design for a seamless modern and, high-tech look. Its simple and sleek lines are accentuated by recessed handles.
Continuous art gallery
Art Gallery
Immerse yourself in a world of beautiful art. "Art Gallery" automatically displays various pieces of art when the screen is not touched for a set time*. It includes 122 paintings covering a wide range of art styles, from classic to contemporary, which are shown randomly for up to 2 hours**.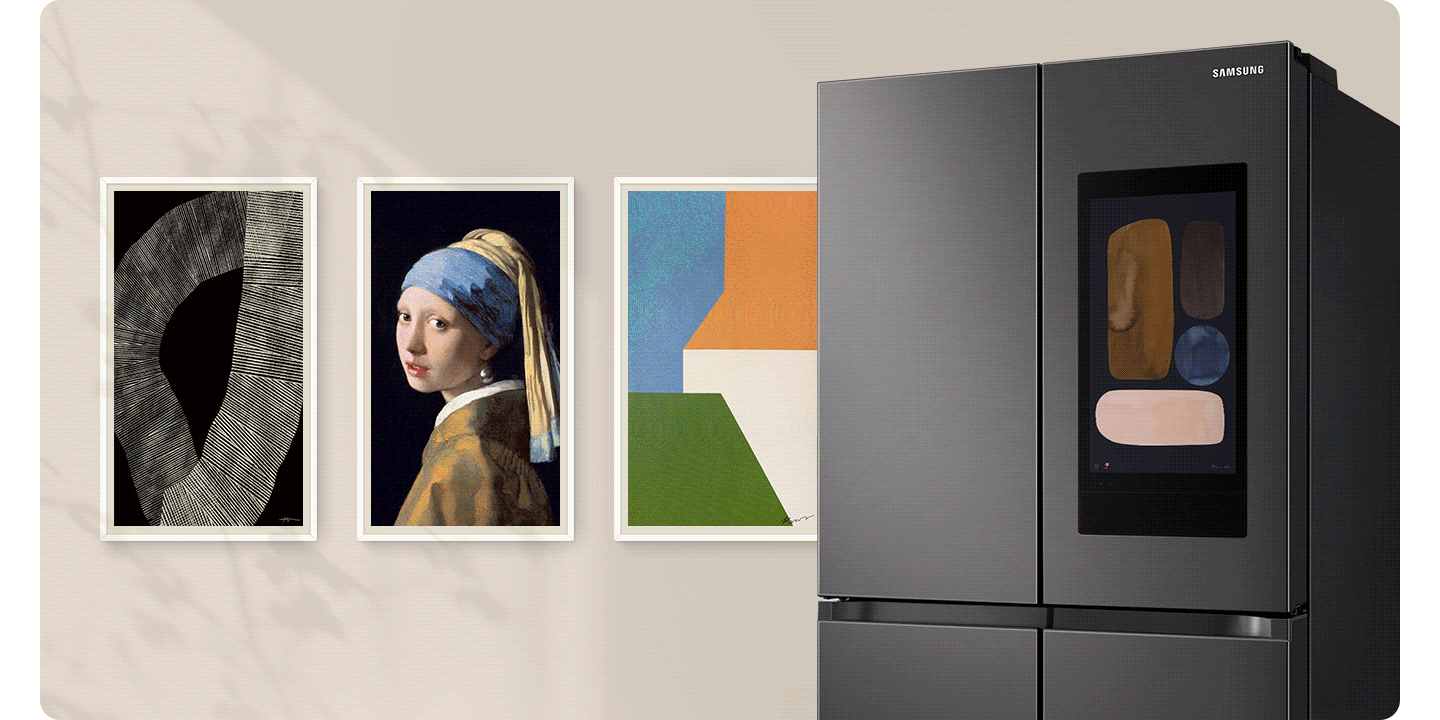 * The period of time before the Cover Screen mode is activated can be set by the user from 15 seconds to 5 minutes.** The period of time that each painting is displayed can be set by the user from 2 minutes to 2 hours.
The quiet achiever.
Digital Inverter Technology
Enjoy energy efficiency and long-lasting performance. The Digital Inverter Compressor intelligently adjusts operating speed in response to cooling demand.
Factory Second
Limited Warranty, conditions apply
WARRANTY is Return to Base
Inspection recommended
Never used but may have a dent or scratch
Personal shoppers welcome
Additional information
Weight
145 kg
Dimensions
723 × 912 × 1825 cm
Rated Capacity

Total (Litre): 637 L

Fridge (Litre): 387 L

Freezer (Litre): 250 L

Physical specifications

Width: 912 mm

Height with Hinge: 1825 mm

Depth with Handle: 723 mm

Depth without Door: 610 mm

Dimension (WxHxD) (incl. Hinge and Handle): 912 x 1825 x 723 mm

Net Weight (kg): 145 kg

Cooling Technology

Cooling Type: Triple & Metal Cooling

No Frost: Frost Free

Refrigerator Features

Power Cool Function: Yes

Metal Cooling Duct: Yes

Metal Cooling Plate: Yes

Number of Shelves (Total): 4 EA

Shelf Material: Tempered Glass

Number of Vegetable & Fruit Drawers: 2 EA

Number of Door Pockets: 6 EA

Interior LED Light: TOP & Side

Shelf Type: Spill Proof

Egg Container (Egg Tray): Yes

General Features

Door Alarm: Yes

Refrigerant: R600a

Compressor: Digital Inverter Compressor

Exterior Features

Door Type: Left Door Showcase (Fridge)

Dispenser with Water Filter: Yes

Display Type: Family Hub™

Door Handle: Recess (Horizontal)

Color: Matte Black

Dispenser Type: Beverage Centre™ + Autofill Infuser Water Jug

Energy

Energy Star Rating: 3 Star

Category

Refrigerator Type: Family Hub™ French Door

Depth: Counter Depth

Other Specifications

WiFi Embedded: Yes

SmartThings App Support: Yes

Recommended Household Size: Large Household Size