-32%
649L French Door Refrigerator by Samsung
Got a large household? This French Door Refrigerator, with a 649L capacity, has space for everyone's fresh food and drinks. The Premium Flat Door Design with silver finish helps it blend elegantly into your kitchen, and with legendary Samsung quality features, you can be confident of performance that lasts.
Enquire Now
Description
649L French Door Refrigerator
Got a large household? This French Door Refrigerator, with a 649L capacity, has space for everyone's fresh food and drinks. The Premium Flat Door Design, with a matte black finish,  blends elegantly into your kitchen. You can be confident of performance and quality that lasts.
Designed to impress
Premium Flat Door Design
Enjoy a seamless, elegant built-in look, thanks to the modern flat door design. Simple and sleek styling is accentuated by recessed handles, with an antimicrobial coating on the matte black door that helps to protect it from degradation from certain microorganisms.
Fits in and fits it ALL in
Sized for Australian Kitchens
You'll be amazed by the expansive French Door storage space. The full-width fridge is perfect for large platters when entertaining. The large, dual freezers and clever in-door storage bins let you stock up on everyone's favorites while keeping everything within easy reach.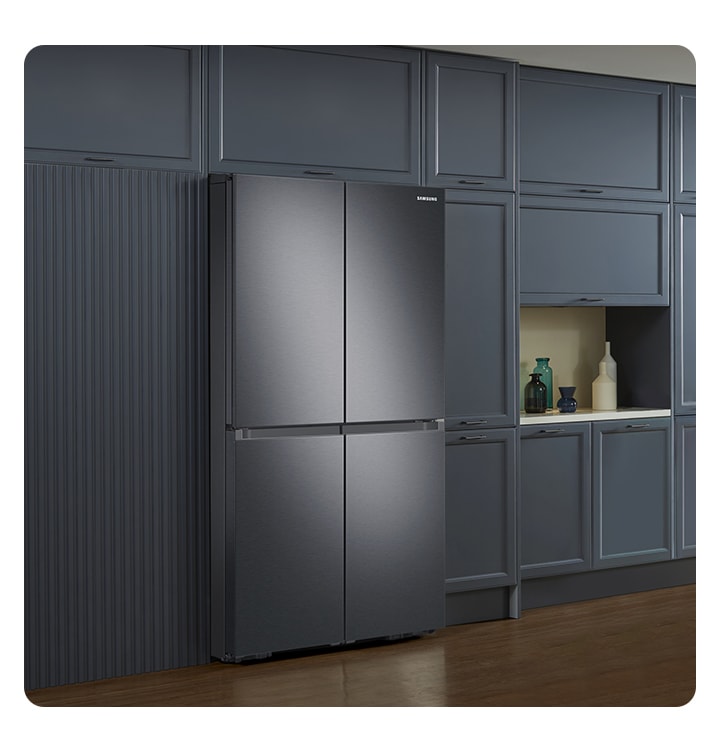 Helping hand to keep things clean
Anti-Fingerprint Finish
Keep the fridge looking stylish, with the help of our Anti-Fingerprint Finish. Designed to discourage fingerprints on the external surfaces of the fridge, and make it easy to wipe away any that do appear, it helps to keep things in tip-top shape.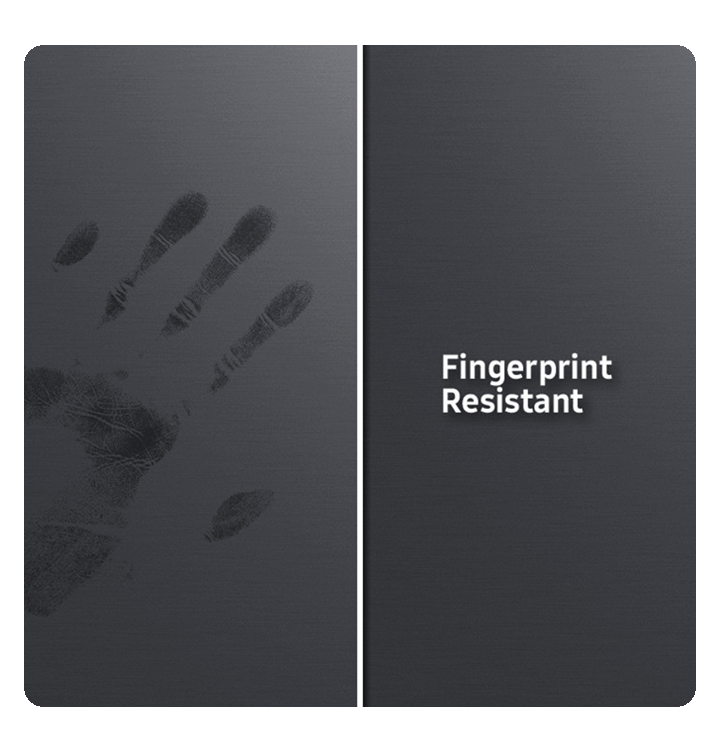 Store in the door. Free up internal fridge space
Big Bottle Door Bins
Keep large bottles and jugs within convenient reach, right inside the door. The deep door bins provide plenty of room for those BIG 3L milk and 2L soft drink bottles, without crowding out the internal fridge space.
Keep it all crisp
Big Crisper
Stock up with all the good stuff, and keep the crunch. Large capacity, deep crispers help you to maximize fresh fruit and vegetable storage.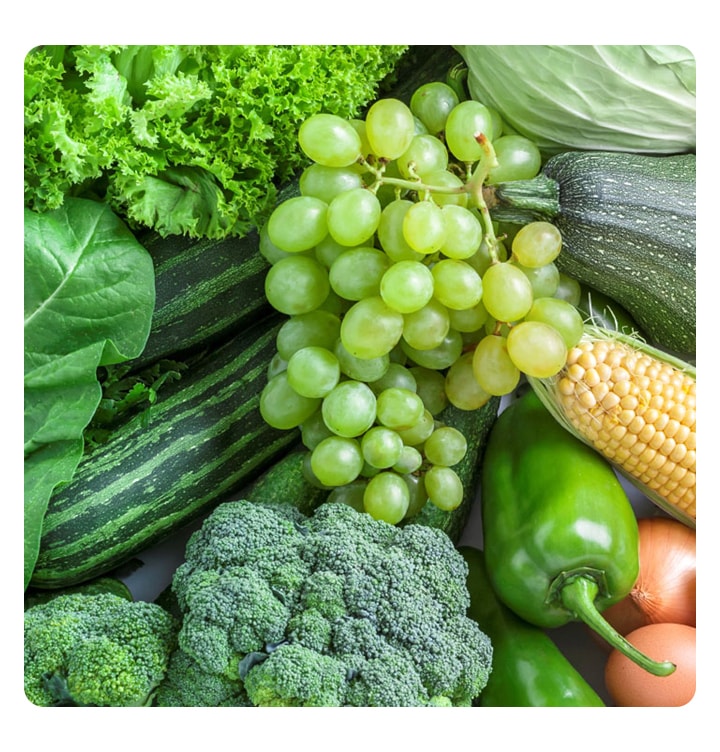 Ice cubes in a flick
Movable Twist Ice Maker
Make sure you always have plenty of ice to stay cool when the weather is warm. With the Movable Ice Maker, a simple twist is all it takes to dispense a large number of ice cubes. When the seasons change and there's not much need for ice, you can easily detach and remove it to make space for winter essentials.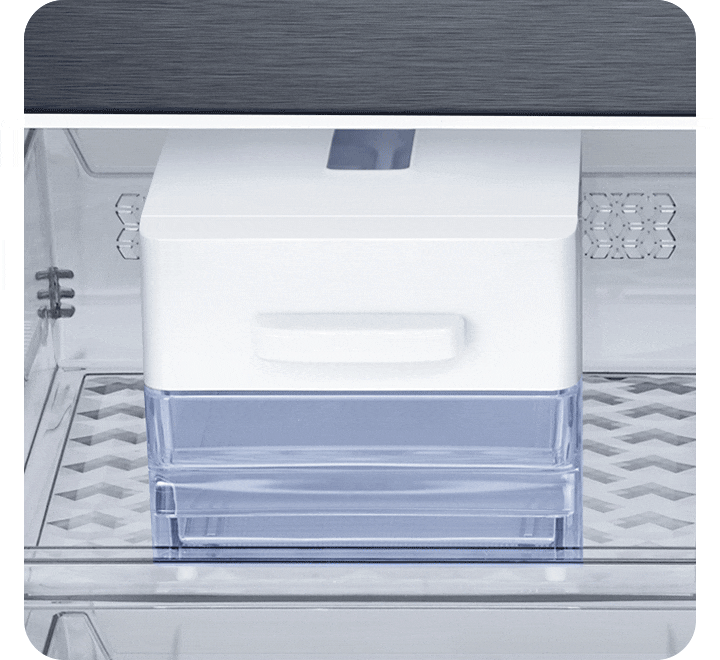 Preserve freshness in your food
All-around Cooling
No matter where your food is stored in the fridge, it will be cooled. All-around Cooling technology continually checks the internal temperature and blows out cold air when needed. Multiple air vents on every shelf help ensure an even distribution of cold air from corner to corner to help keep your food fresh.
Fast, cold, blast
Power Cool / Power Freeze
At the touch of a button, Power Cool blows intensely cold air into the fridge, so foods and drinks are chilled quickly. And Power Freeze delivers a fast blast of cold air into the freezer. It's great for freezing or firming up frozen food, like ice cream, and making more ice.
Seamlessly stylish
Simple LED Display
Enjoy a stylish and easy way to access the controls. The simple LED display enhances the minimalist design as it's discretely hidden inside.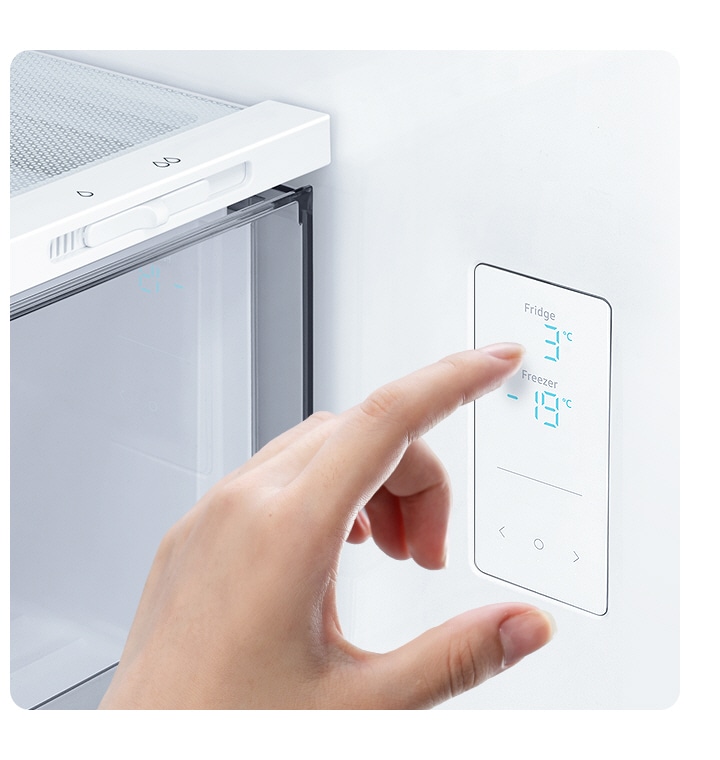 The quiet achiever
Digital Inverter Technology
Enjoy energy efficiency and long-lasting performance. The Digital Inverter Compressor intelligently adjusts operating speed in response to cooling demand.
Factory Second
Limited Warranty, conditions apply
WARRANTY is Return to Base
Inspection recommended
Never been used, but may have a dent or scratch
Personal shoppers welcome
Additional information
Weight
117 kg
Dimensions
723 × 912 × 1779 cm
Rated Capacity

Total (Litre): 649 L

Fridge (Litre): 390 L

Freezer (Litre): 259 L

Product Specifications

Product Width: 912 mm

Product Height: 1779 mm

Product Depth with Handle: 723 mm

Product Depth without Handle: 723 mm

Product Weight: 117 kg

Packaging Specifications

Packaging Width: 972 mm

Packaging Height: 1923 mm

Packaging Depth: 776 mm

Packaging Weight: 126 kg

Cooling Technology

No Frost: Frost Free

Cooling Type: All-around Cooling

Refrigerator Features

Interior LED Light: Top LED

Number of Door Pockets: 6 EA

Number of Shelves (Total): 4 EA

Power Cool Function: Yes

Shelf Material: Tempered Glass

Deodoriser: Yes

Egg Container (Egg Tray): Yes

Shelf Type: Spill Proof

Bottom Left

Shelf: 2 EA

Box: 1 EA

Ice Maker: Twist Ice Maker (Movable)

LED Interior Light: Yes

Bottom Right

Box: 1 EA

LED Interior Light: Yes

Shelf: 2 EA

General Features

Refrigerant: R600a

Door Alarm: Yes

Exterior Features

Color: Matte Black

Display Type: Internal

Door Handle: Recess (Horizontal)

Energy

Energy Star Rating: 3.5 Star

Other Specifications

Refrigerator Type: French Door

Depth: Counter Depth

Household Size: Large Household Size