-56%
Samsung 647L Bespoke Refrigerator
Samsung 647L Bespoke Refrigerator
4 Door French Door Refrigerator

Customizable Door Panels

Internal Beverage Centre™ with Autofill Jug

Triple Cooling™ + Metal Cooling

Plumbed Dual Ice Maker

FlexZone™ + Flex Crisper™

Power Cool Function

LED Lighting

Wi-Fi Enabled
Enquire Now
Description
Samsung 647L Bespoke Refrigerator with Customizable Door Panels and Internal Beverage Centre
Designed for you, by you
Create a beautifully stylish kitchen space with a design that's uniquely you.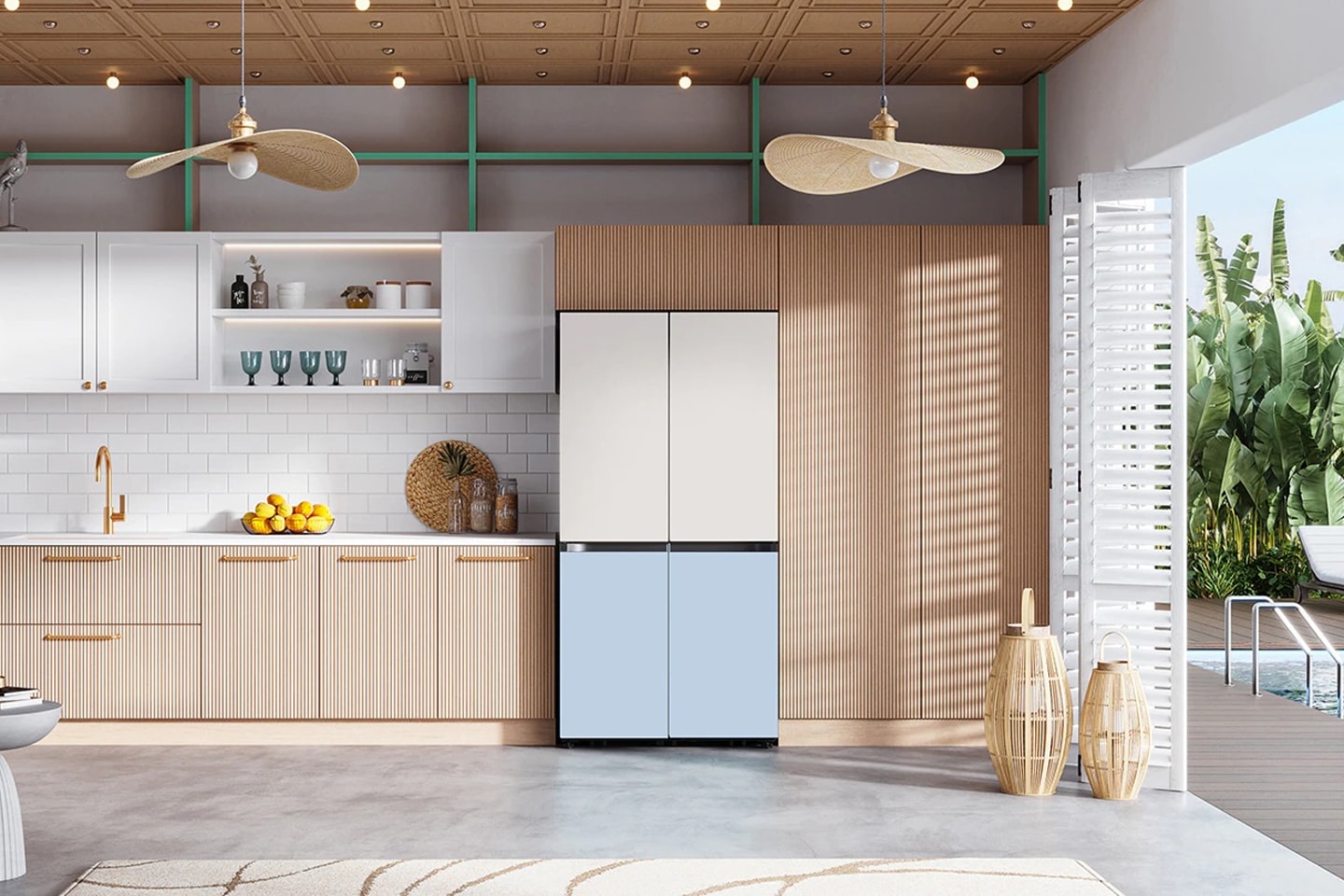 Highlights
Express yourself with colour
Bespoke – Customisable Design
Bring your personal style into the kitchen. Choose from 7 stunning colours in selected finishes including matte metal, high gloss glass or frosted satin glass to build a fridge that's unique to your home. Select the combination for your fridge when you purchase your unit.
At a later date, if you decide to change one or more of the 4 doors to a different colour, an additional charge will apply to each replaced bespoke door panel (approx $200 per door, but please check before committing to a change).
Beverage Centre™
We've moved the water dispenser for a seamless flat door design outside, and created a handy beverage station inside.
Flexible Storage
Store and organise your food efficiently with convertible freezer space.
Flat-door outside. Water dispenser inside.
The handy and hygienic beverage station is inside the door and is equipped with the Autofill Infuser Jug and water dispenser. The water jug automatically refills each time it's placed back in the fridge so you always have access to cold water. Feeling fancy? Add some flavour to the infuser for a refreshing twist.
Lock in crunch & freshness
Triple Cooling + Precise Cooling + Metal Cooling
Independent cooling systems give you optimal control of temperature and humidity in each compartment. This helps keep food fresher for longer while also helping to prevent the mixing of odours between fresh and frozen food. Precise Cooling also minimises any temperature fluctuation and an easy clean Metal Cooling plate helps the fridge cool down fast, thanks to its high thermal conductivity.
Nice Ice Baby
Dual Auto Ice Maker
You'll be prepared for any occasion that calls for entertaining with two different types of ice. The Dual Auto Ice Maker makes both Cubed Ice and Ice Bites™, which chill drinks fast. It can make up to 2.7kg of ice a day and store up to 3.1kg. As it's in the freezer it frees up space in the fridge.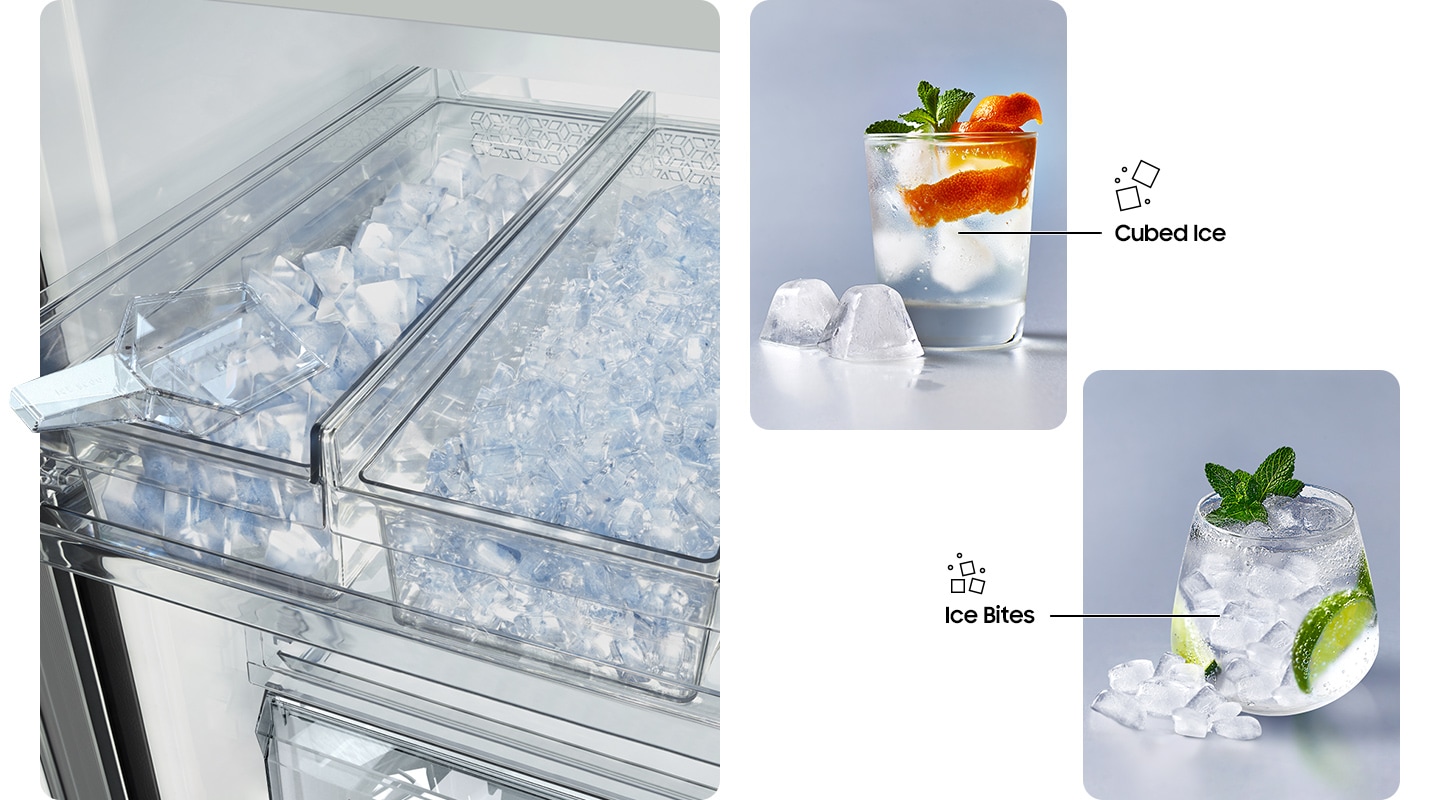 Customisable temperature & storage
FlexZone™ + Flex Crisper™
Need more fridge space? With just one touch, the bottom left freezer can be turned into a fridge for extra storage and switched back to Freezer mode when needed. Perfect for entertaining!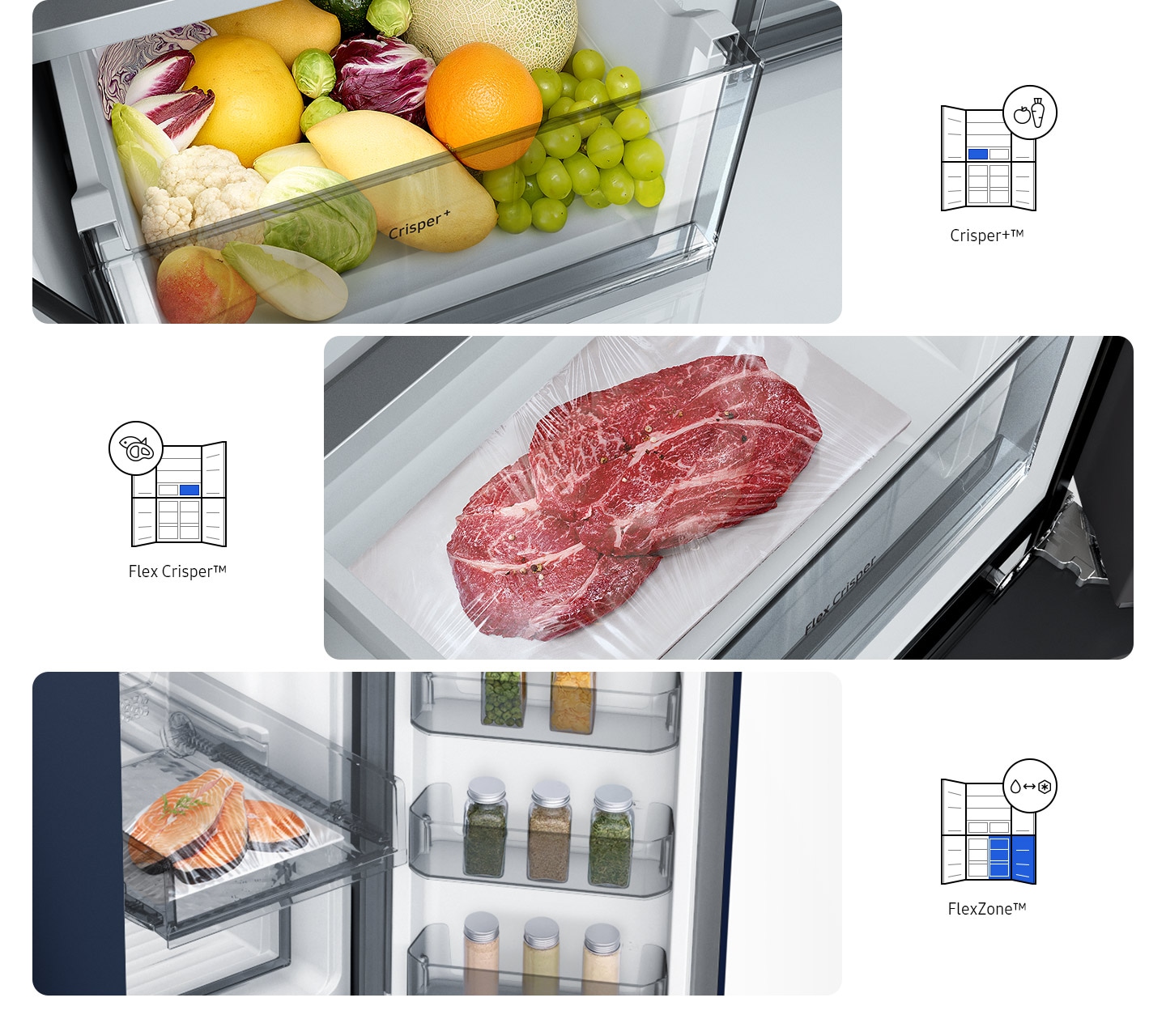 UV Deodorising Filter
UV Deodorising Filter
A new built-in deodorising filter helps reduce odours caused by bacteria⁵. It also features a UV light that continuously cleans the surface of the filter for hassle-free maintenance. Easy!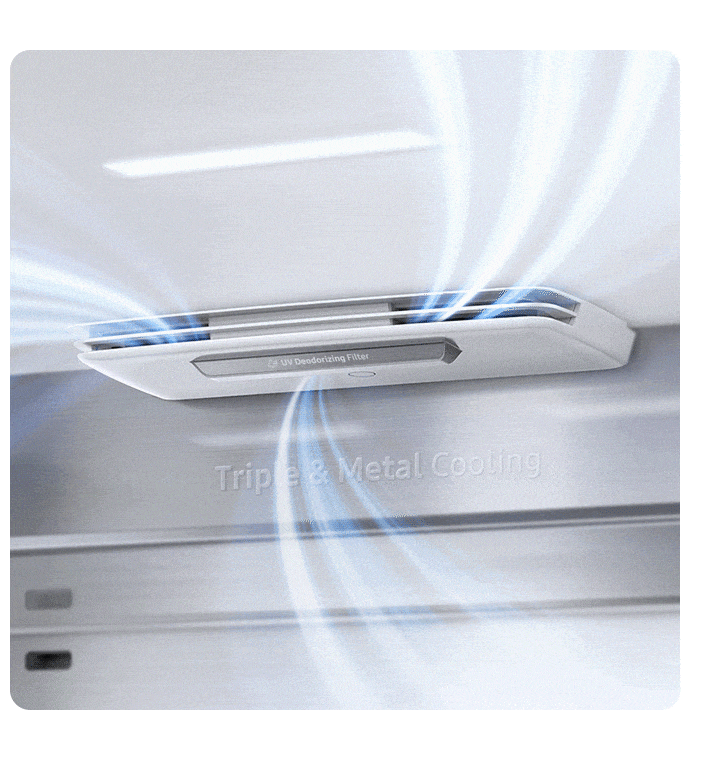 Fast, cold, blast
Power Cool Function
At the touch of a button, Power Cool blows intensely cold air into the fridge, so foods and drinks are chilled quickly.
Keep things fresh
Water Filter – HAF-QIN
Samsung water filters use high-grade "carbon block" to help remove substances that may be present in your water, including chlorine, microbial cysts, heavy metals and chemicals.
One filter ships as standard with this model refrigerator. When the filter light indicator turns red, it's time to replace your filter.
Factory Second
Limited Warranty, conditions apply
WARRANTY is Return to Base
Inspection recommended
Never been used, but may have a dent or scratch
Personal shoppers welcome
Additional information
Weight
139 kg
Dimensions
731 × 912 × 1853 cm
Rated Capacity

Total (Litre): 647 L

Fridge (Litre): 397L

Freezer (Litre): 250 L

Product Specifications

Product Width: 912 mm

Product Height: 1853 mm

Product Depth without door: 610 mm

Product Weight (Net): 139 kg

Product Depth (no door handle): 731 mm

Packaging Specifications

Packaging Width: 972 mm

Packaging Height: 1995 mm

Packaging Depth: 776 mm

Packaging + Product Weight (Gross): 149 kg

Cooling Technology

Cooling Type: Triple Cooling ™

Plate: Metal Cooling

Exterior Features

Format: Free-standing

Number of colour options available: 7

Number of individual panels: 4

Door Handle: Recessed

Display Type: Internal

Door Type: Left Door Showcase

Dispenser Type: Autofill Jug + Water Dispenser

Refrigerator Features

Number of Door Pockets: 6 EA

Number of Shelves (Total): 4 EA

Number of Vegetable & Fruit Drawers: 2 EA

Power Cool Function: Yes

Shelf Material: Tempered Glass

Shelf Type: Spill Proof

Deodoriser Type: UV Deodorising Filter

Egg Container (Egg Tray): Yes

Freezer Features

Number of Shelves (Total): 4 EA

Box: 2 EA

Ice Maker: Automatic Dual Ice

FlexZone™: Yes

Convertible Zone (°C): -23~-15, -5, -1, 2, 4 °C

General and Other Features

Compressor: Digital Inverter Compressor

Refrigerant: R600a

Door Alarm: Yes

LED Interior Light: Top, Side

Wi-Fi Embedded: Yes

Energy Grade: 3 Star