-31%
8.5kg front load washer from Samsung with BubbleWash
8.5kg Front Load Washer from Samsung is hard on dirt but soft on clothes. Features include BubbleWash and BubbleSoak. A clever Quick Wash Cycle lets you wash small loads in 15 mins.
Enquire Now
Description
8.5kg front load washer from Samsung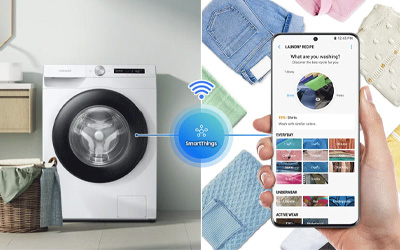 A FRONT LOAD WASHER WITH INTELLIGENT WASHING
| AI PERSONALISED SETTINGS
You deserve an 8.5kg front load washer with intelligence. Download the Samsung SmartThings App (Available on Android and iOS devices) to start experiencing the power and versatility of control-by-phone. Powerful AI Control personalizes your washing by remembering your habits, suggesting cycles, and displaying timely information. With intelligent location and weather-based recommendations, you can start, stop and set the optimum wash cycle. The SmartThings app provides advice on cycles, planning, and troubleshooting. When paired with a compatible Samsung dryer it will automatically select your perfect drying course at the end of the wash cycle.
A WASHER THAT KEEPS HYGIENICALLY CLEAN | STEAM CYCLE
Give your clothes a deep clean with steam. Powerful Hygiene-Steam Cycle improves the cleaning ability of your wash by releasing steam from the bottom of the drum. This helps attack up to 99.9% of certain common bacteria (including Staphylococcus aureus and Escherichia coli) and allergens.
A FRONT LOAD WASHER THAT IS HARD ON DIRT. SOFT ON CLOTHES. | BUBBLEWASH™ AND BUBBLESOAK™
BubbleWash™ helps generate foam by pre-mixing detergent with air and water. The clothes are then soaked in this active foam. This Pre-treatment is termed BubbleSoak™.
An 8.5kg FRONT LOAD WASHER THAT DOES SMALL LOADS IN 15 MINS | QUICK-WASH CYCLE
No time to waste? The 15 min Quick-Wash Cycle time can be adjusted for loads 2kg or less, with as little as 15mins for a complete wash cycle (for lightly soiled laundry). This allows you to spend less time on chores and more time doing the things you love.
DURABLE PERFORMANCE | DIGITAL INVERTER TECHNOLOGY
Digital Inverter Technology utilizes strong magnets for quiet and powerful performance. By eliminating the use of brushes, it provides outstanding durability.
KEEP THE WASHER FRESH | DRUM-CLEAN
Keep the door and inside of your washer clean. Drum-Clean cleans inside your washer to reduce odour-causing bacteria from the drum without using harsh chemicals. The frictional force created by combining a powerful water jet, and fast spinning drum, helps to remove dirt from the rubber door gasket.
CLEANS AWAY DETERGENT RESIDUE | STAYCLEAN DRAWER
The StayClean Drawer helps ensure that more of the detergent is washed away with a specially designed water flushing system. This flushing system helps the tray to stay cleaner by reducing unsightly soap residue.
Condition: Factory Second Product
12 MONTHS/1 YEAR WARRANTY
Additional information
Weight
67 kg
Dimensions
550 × 600 × 850 cm
GENERAL

Colour: White
Control Type: AI Control
Door Hinge: Left
Washing Capacity (kg): 8.5Kg

DISPLAY

Display Type: Digital

CONNECTIVITY

Wi-Fi: Yes

PERFORMANCE

Maximum Spin Speed (RPM): 1400

SAFETY FEATURES

Auto Shutoff: No
Child Lock: Yes

FEATURES

Steaming Function: Yes
App-Control: No
Variable Temperature: No
Delay Timer: Yes
Variable Spin: No
Time Remaining Display: No
Cold Wash Option: No
Detergent Dispenser: No
Inverter Motor: Yes
Antiallergy: No

PROGRAMS

Number Of Programs: 22

ENERGY SPECIFICATION/POWER

Energy Rating: 4 Star
Energy Consumption (Kwh): 333
Water Rating: 4.5 Stars
WELS Water Consumption (L): 73

DIMENSIONS

Width (mm): 600mm
Depth: 550mm
Height : 850mm

WEIGHT

Weight (Kg): 67

OTHER

Box Width (mm): 670
Box Depth (mm): 635
Box Height (mm): 890