-30%
Samsung 696L Refrigerator is Side by Side
This Samsung 696L Side By Side Refrigerator features the fridge next to the freezer. This gives you maximised storage space for large families and keen entertainers. Narrow doors swing out to reveal neatly stored fresh and frozen goods on sturdy shelves, and in multiple compartments.  Samsung's All-Around Cooling technology maintains an even temperature to ensure food stays fresher for longer, irrespective of what shelf items are stored. It has a 3 Star Energy Rating.
Enquire Now
Description
Samsung 696L Refrigerator
Designed for standard Australian Kitchens*
Sleek & Seamless Design
Give your home a style update. Designed to fit under standard Australian kitchen bulkheads,*the Samsung 696L Refrigerator helps create a harmonious look for clean styling and an integrated, modern look. The matte finish with flat doors and recessed handles adds a touch of elegance to your kitchen. Controls that are not frequently used are relocated to the inside of the fridge to give a seamless look.
* Fits a standard 1800mm cavity. Please review full fridge dimensions to determine suitability.
Preserve freshness in your food
All-around Cooling
All-Around Cooling technology helps maintain freshness in your food, irrespective of which shelf it is stored on. Multiple air-vents placed on every shelf circulate cool air evenly inside the fridge and the freezer to reduce temperature fluctuations inside and help keep your food fresher for longer.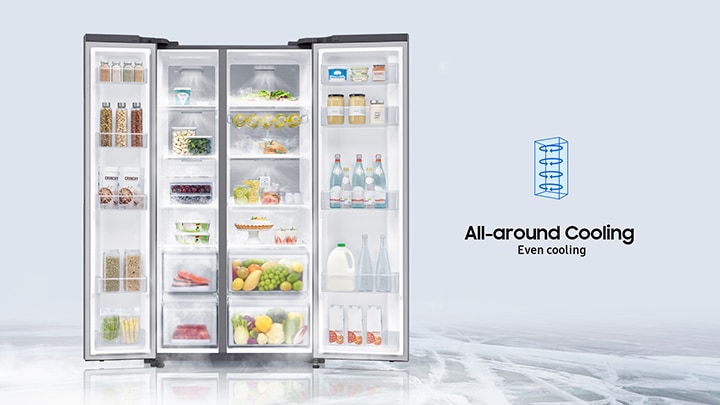 Fast cooling and freezing
Power Cool / Power Freeze
Enjoy a rapid cooling performance at the touch of a button. "Power Cool" blows intensely cold air into the fridge to help quickly cool your groceries or favourite drinks. And "Power Freeze" delivers a fast blast of cold air into the freezer. It's great to help freeze or firming up frozen food, and for making ice.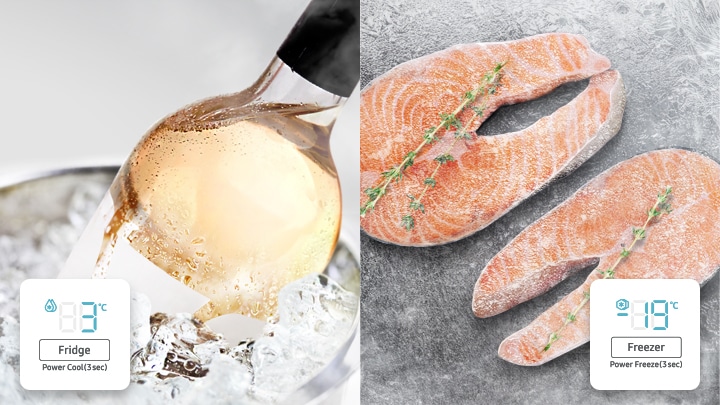 Neatly store your favourite wines
Wine Rack
Organise and neatly store your wine with our handy Wine Rack. Now, with its own rack, wine can be safely and securely stored without using up precious shelf space in the fridge. It can be set up on either the upper or lower fridge compartments for easy access. So now you can enjoy a glass of deliciously chilled wine whenever you like.
Help maintain your food's flavour
Deodorizing Filter
This filter helps to keep the air inside your fridge clean and preserve the original flavour and aroma of food. The air continually passes through the built-in natural fiber "Deodorizing Filter". As this filter contains activated carbon, it is able to remove those unwanted strong smells from your fridge. Because the "Deodourising Filter" is cleaning the air, there is no need to use any other odour fighting solutions.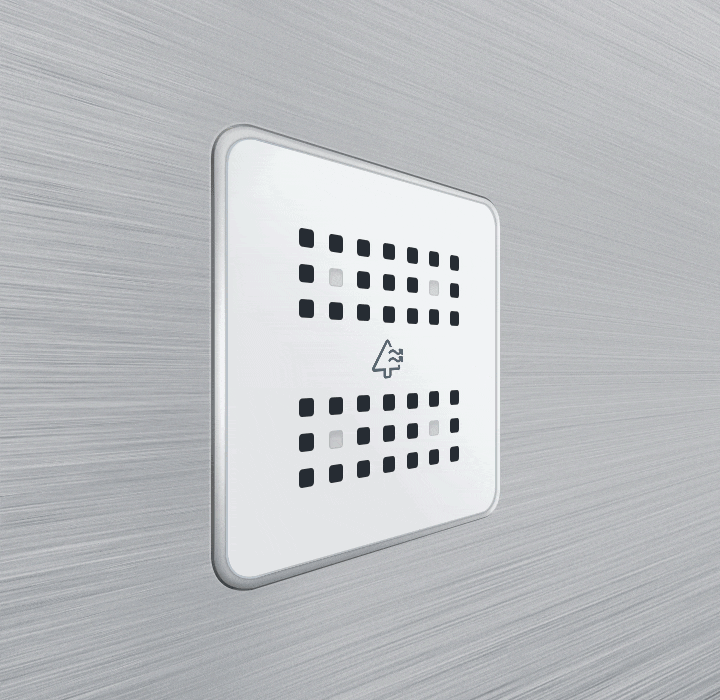 Easily store your vegetables and fruits
Vege Box
A large-capacity "Vege Box" provides a convenient space to store a large number of fresh vegetables and fruit. And because it's so big, it's much easier to find everything – all in one place and easy to get to.
NOTE: Factory Second.   
 Conditions apply.
May have signs of dent or scratch
 Inquire First for Availability. Stock Changes Daily.
Additional information
| | |
| --- | --- |
| Weight | 101 kg |
| Dimensions | 716 × 912 × 1780 cm |