-32%
Samsung 621L Side-by-Side Refrigerator with 3 Doors
Samsung 621L Side-by-Side Refrigerator with its sleek, space-saving design and plentiful capacity,  and SpaceMax Technology provides the ideal solution for keeping large amounts of perishables at their best for longer. Customizable temperature zone adapts to different types of food and drinks. Features an easily accessible water dispenser. Specially built to fit under standard Australian kitchen bulkheads
This fridge comes in a Matte-black finish with a recessed handle. The perfect appliance that will introduce a stylish element to your kitchen.
Enquire Now
Description
Samsung 621L Side-by-Side Refrigerator
Samsung 621L Side-by-Side Refrigerator is ahead of its time.
This fridge has massive internal storage by using SpaceMax technology. By applying clever design, Samsung has been able to increase internal space without affecting external dimensions.
Flexibility to store and organise your food more efficiently has been achieved with its unique 3-door design.
With just one touch, the temperature can be customised to help keep food fresher for longer.
Read on to learn more about this amazing refrigerator.
621L of Internal space efficiency with SpaceMax™ Technology
Store more food with a very spacious 621-litre interior. SpaceMax™ technology uses minimal high-efficiency insulation to keep internal walls thin and create more storage space inside1 – without increasing the external dimensions or compromising energy efficiency.
1 Compared with Samsung refrigerators without SpaceMax™ technology
3 Doors with Customisable FlexZone™ temperature zones
Store and organise your food more efficiently with the unique 3-door design. With just one touch, the temperature can be customised to help keep food fresher for longer. Its four pre-set settings are ideal for preserving meats, cooling beverages, keeping fruit and vegetables fresh.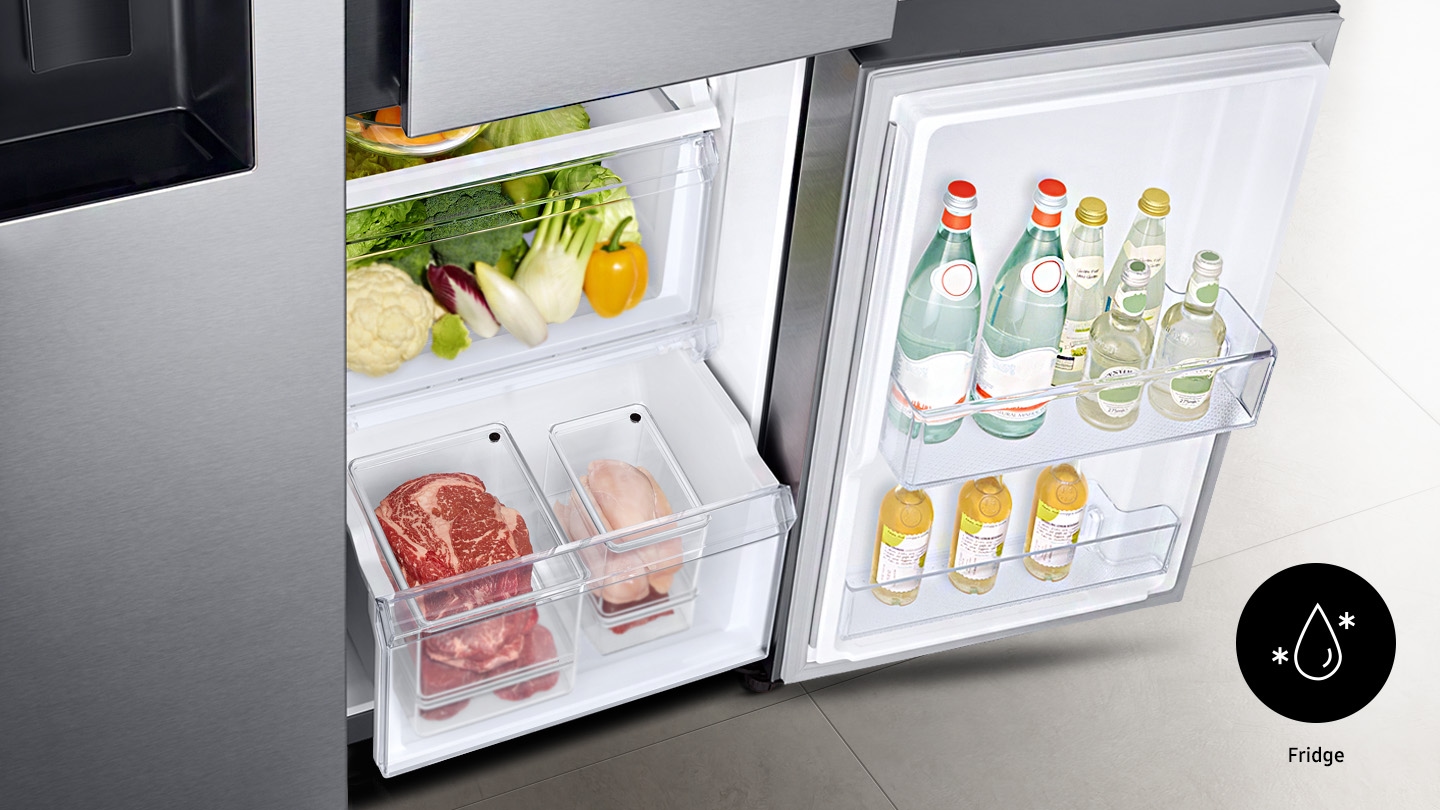 Sleek & Seamless Designed for most Australian kitchens
Give your home a style update. Standing at just under 1800mm height, the fridge is designed to fit under most standard Australian kitchen bulkheads2 to help create an integrated, modern look. The matte black finish with flat doors and recessed handles adds a touch of elegance to your kitchen. Controls that are not frequently used are relocated to the inside of the fridge to give a seamless look.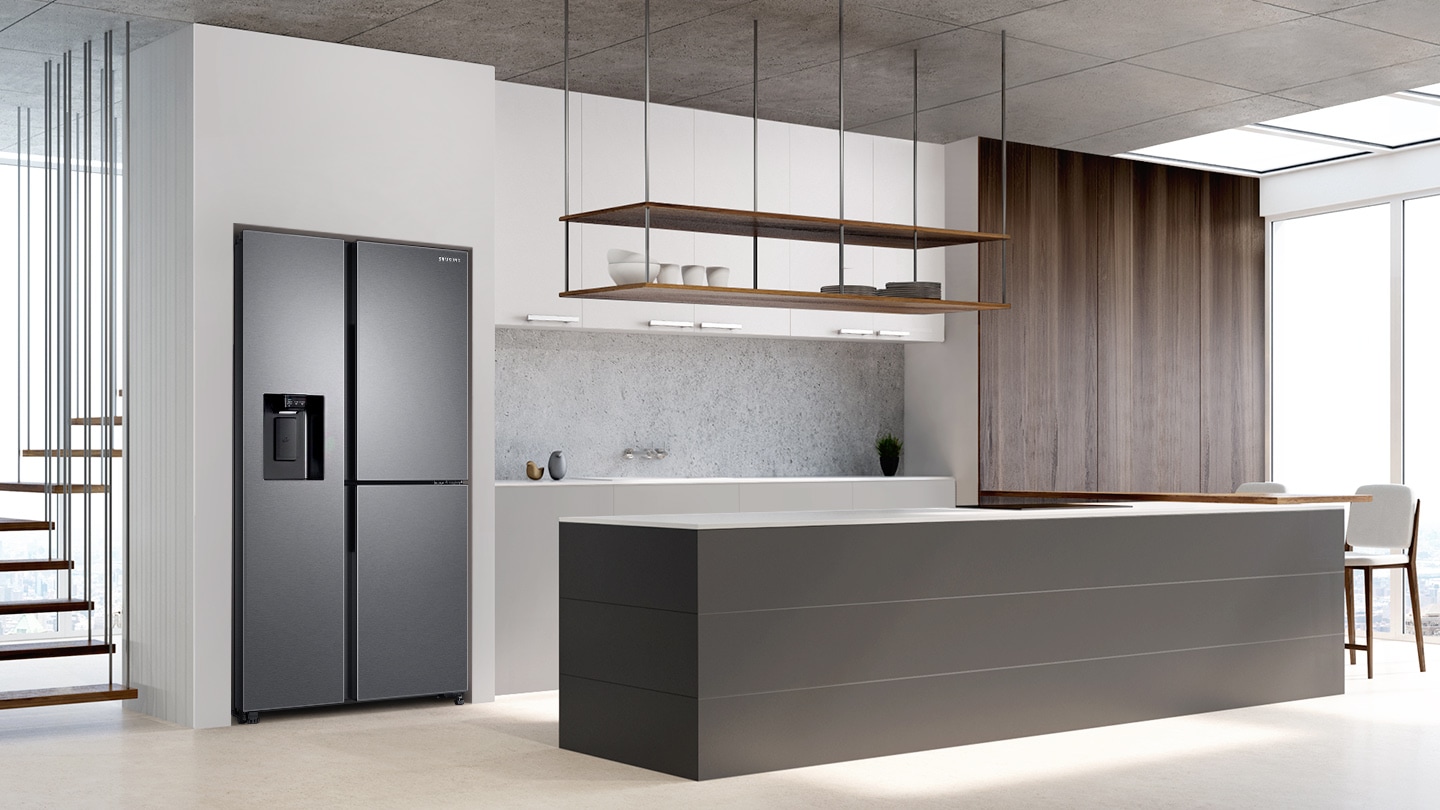 2 Fits a standard 1800mm cavity. Please review full fridge dimensions to determine suitability.
Preserve freshness in your food
All-around Cooling
No matter where your food is stored in the fridge, it will be properly cooled. "All-Around Cooling" continually checks the internal temperature and blows out cold air when needed. Multiple air vents on every shelf ensure even distribution of cold air from corner to corner to help keep your food fresh.
Minimise the loss of cool air*
Unique 3-door design
Store and organise your food more efficiently for the ultimate convenience. The 3-door design has two fridges and one freezer. Keep frequently used items in the top fridge for easy access. Lesser used foods like meat, vegetables and fish can be stored in the bottom fridge.
This will help keep your food fresh for longer.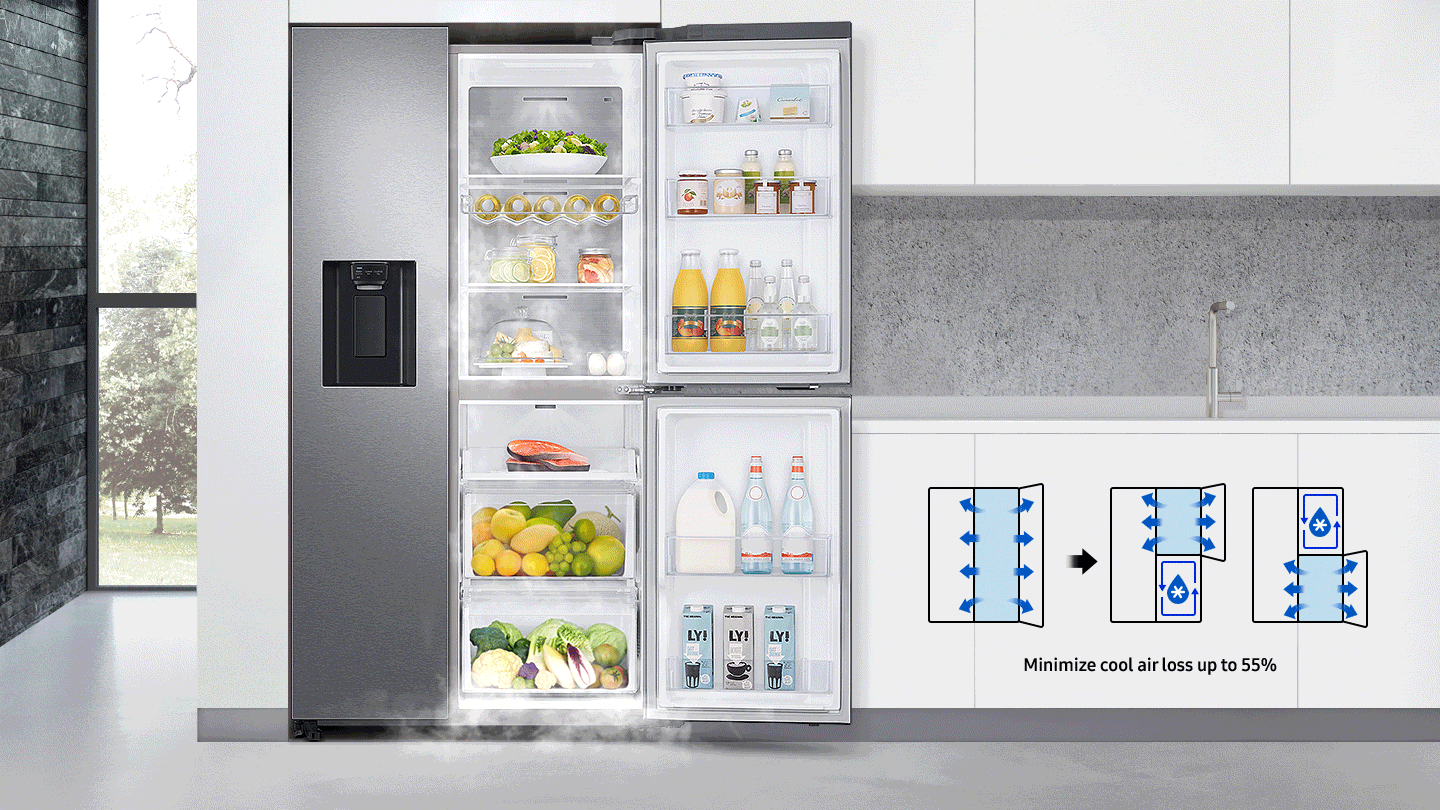 * Image simulation for illustrative purpose. Minimise cool air loss up to 55% compare to Samsung 2 door Side by Side fridges.
Refreshingly chilled ice or water
Plumbed ice and water dispenser*
Enjoy the convenience of a plumbed ice and water dispenser for instant refreshment! Great for those long summer days or for those who love to entertain.
* Available on 3 door non-dispenser model only.
Fast cooling and freezing on-demand
Power Cool / Power Freeze
Enjoy a rapid cooling performance at the touch of a button. Power Cool blows intensely cold air into the fridge to help quickly cool your groceries or favourite drinks. And Power Freeze delivers a fast blast of cold air into the freezer. It's great to help freeze or firming up frozen food and for making ice.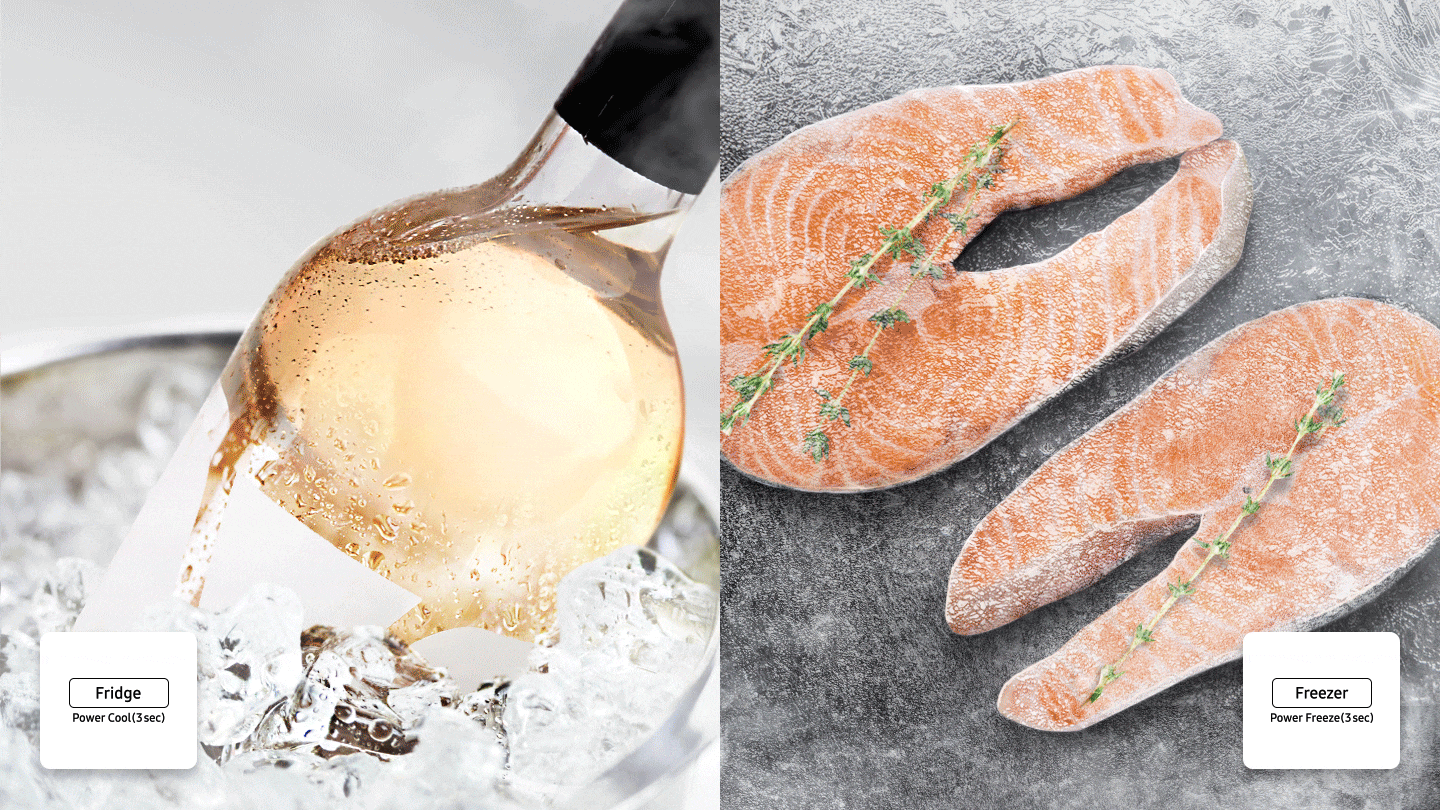 Easy access to your food with an EZ Slide Shelf
Organise and access food more easily with the EZ Slide shelf. It's built on rolling hinges that simply slide in and out for convenient access to your food.
Neatly store your favourite wines in the handy Wine Rack
Organise and neatly store your wine with our handy Wine Rack.
This space-saving rack is designed to store bottles of wine. They don't roll around yet remain easy to access. This Wine Rack can be set up in either the upper or lower fridge compartments.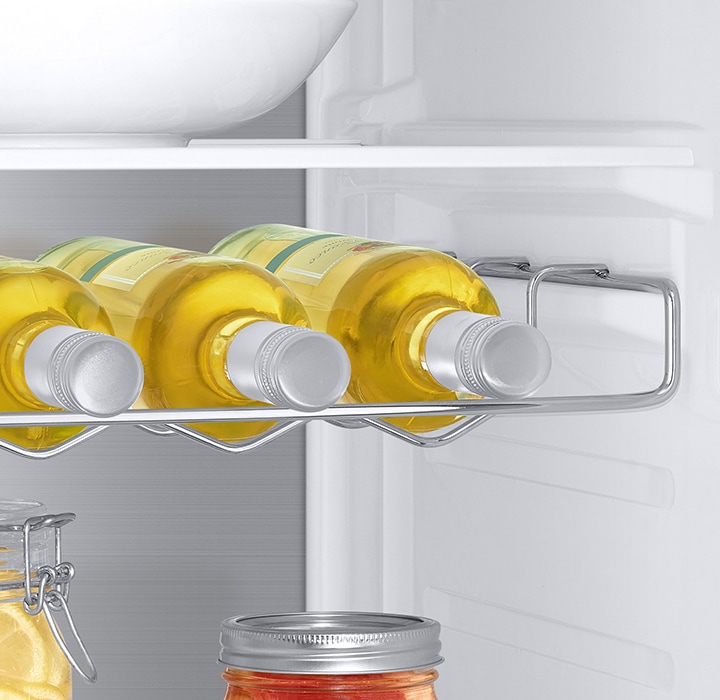 Help maintain your food's flavour
Deodorising Filter
Help keep the air inside your fridge clean and preserve the original flavour and aroma of food. Built-in natural fibre deodorising filter helps remove strong smells as the air is continually passed through activated carbon filters.
* Image simulated for illustrative purposes.
Easily store more vegetables and fruit in our large Vege Box
A large capacity Vege box provides a convenient space to store a large number of fresh vegetables and fruit.
Peace of mind with Digital Inverter Technology
Enjoy energy efficiency and long-lasting performance. The Digital Inverter Compressor intelligently adjusts operating speed in response to cooling demand to give you peace of mind.
Factory Second
Limited Warranty, conditions apply
WARRANTY is Return to Base
Inspection recommended
May have dent or scratch
Personal shoppers welcome
Additional information
Weight
112 kg
Dimensions
716 × 912 × 1780 cm
Specifications

Total (Litre): 621L

Width: 912mm

Height with Hinge: 1780mm

Depth with Handle: 716mm

Rated Capacity

Gross Total (Litre): 621 L

Freezer (Litre): 218 L

Fridge (Litre): 403 L

Physical specification

Gross Dimension (inc. Hinge & Handle) (WxHxD):
912 x 1780 x 716 mm

Width: 912 mm

Height with Hinge: 1780 mm

Depth with Handle: 716 mm

Depth without Handle: 716 mm

Net Weight (kg): 112 kg

Cooling Technology

Power Cool: Yes

Power Freeze Function: Yes

Cooling Type: Mono Cooling

Refrigerator Features

Number of Shelves (Total): 3 EA

Wine Rack: Yes

Number of Door Pockets: 5 EA

Egg Container (Egg Tray): Yes

Interior LED Light: Yes

Number of Vegetable & Fruit Drawers: 2 EA

Freezer Features

Number of Shelves (Total): 4 EA

Number of Door Pockets: 2 EA

Interior LED Light: Yes

Number of Drawers: 2 EA

General Features

Door Alarm: Yes

Refrigerant: R600a

Compressor: Digital Inverter Compressor

Exterior Features

Display Type: Internal (Ice Blue)

Door Handle: Recess

Color: Matt Black

Extras

Vacation Mode: Yes

Energy Star Rating: 3 Star